MSF operates six hospitals in the metropolitan area of Port-au-Prince: the Drouillard hospital burn unit, the Martissant 25 emergency centre, the Nap Kenbe emergency surgical hospital, the CRUO referral centre for obstetrical emergencies, the Pran Men'm clinic for survivors of sexual and gender-based violence, as well as the emergency and cholera response unit, which can be operational within hours. MSF also supports the Ministry of Health through the Diquini centre for cholera patients and has been active in Haiti on a regular basis since 1991. The organization has been a crucial part of the recovery effort in Haiti following the impact of Hurricane Matthew last October.

'What a joy it is to receive these items': MSF assists with distribution of urgently needed materials as part of ongoing recovery efforts following Hurricane Matthew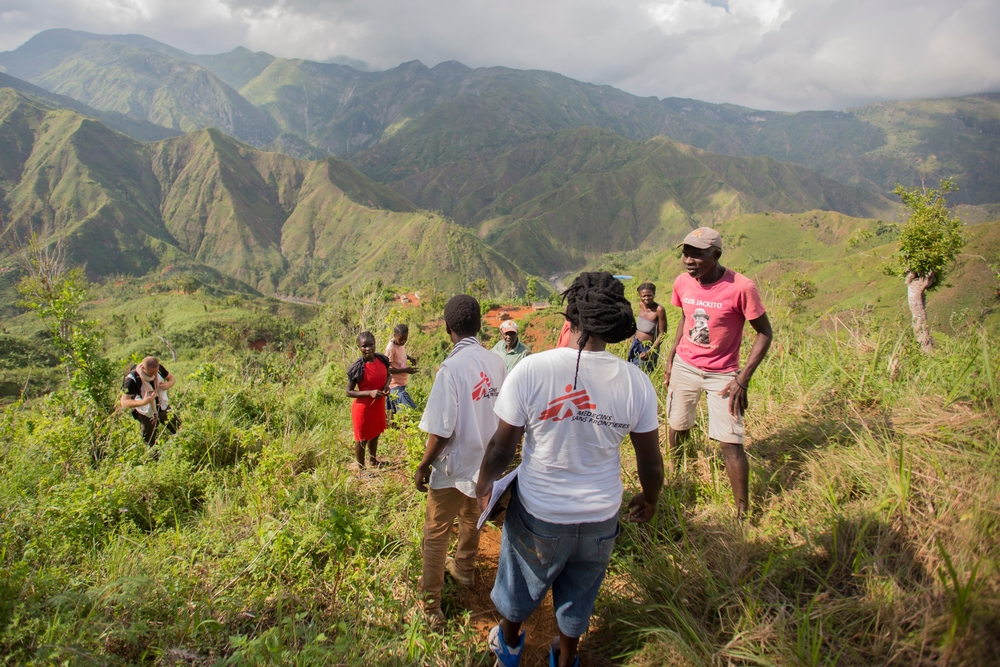 Medical aid organization Doctors Without Borders/Médecins Sans Frontières (MSF) launched a massive distribution of building materials, hygiene kits, water storage equipment, purification tablets, blankets and energy biscuits in the most remote mountainous region of Sud-Ouest, in Haiti, one of the area's most badly hit by Hurricane Matthew last October. Each of the 9,530 beneficiary families will also receive a set of 10 corrugated metal sheets, enough to rebuild a 12-square-metre roof and provide shelter with dignity. 

Canadians on Mission: Kim Parry, an administrator working with MSF in Haiti
Every year, hundreds of Canadians work overseas with Doctors Without Borders/Médecins Sans Frontières (MSF), delivering front-line medical care in most of the nearly 70 countries around the world where MSF carries out lifesaving emergency healthcare programs. Kim Parry is an administrator from Ottawa who took part in MSF's response to Hurricane Matthew in Haiti. 

Eyewitness: Hope and heartbreak at MSF's obstetrics hospital in Haiti
In the video above, Laura Puteris, a nurse from Toronto who worked at Doctors Without Borders/Médecins Sans Frontières (MSF)'s obstetrics hospital in Port-au-Prince, Haiti, describes the challenges of trying to save a pregnant mother and her unborn child following a tragic accident.

Read the December 2016 MSF crisis update from Haiti
Two months after Hurricane Matthew devastated southwest Haiti, thousands of people are still without adequate shelter, food and potable water. Certain remote communities have yet to receive assistance. In the Sud and Grand'Anse departments, MSF has set up mobile clinics to evaluate the general health conditions of children. Chiara Burzio, MSF medical coordinator explained that just in the last week, MSF's mobile clinics "examined and treated 163 children under age five with respiratory complications, 60% of whom suffered from upper respiratory tract infections and 5% from pneumonia or bronchitis. These complications are mostly tied to a lack of adequate shelter, in addition to cold nights in the mountains. The other children had diarrhea and skin infections caused by poor access to clean water.

Watch an MSF medical team arrive by helicopter to treat people cut off from help by Hurricane Matthew
Click the image below for a map showing some of MSF's hurricane response activities in Haiti:
MSF has been present in Haiti for over 19 years, providing free healthcare for the thousands of people who cannot afford the limited yet costly healthcare available. We currently runs six projects in Port-au-Prince metropolitan area, including Drouillard hospital for severe burns, the Tabarre traumatology hospital, the Martissant emergency centre, the Centre de Référence des Urgences en Obstétrique (CRUO), and the Pran Men'm clinic for sexual and gender-based violence survivors. MSF also supports the Diquini centre for cholera patients.

Related News & Publications