In 2016, Doctors Without Borders/Médecins Sans Frontières (MSF)'s worked in more than 60 countries worldwide, delivering lifesaving emergency medical care to people made vulnerable by disaster, conflict or lack of access to urgent health services.
Canada plays a crucial role in MSF's work: Not only does the support of people from across the country enable us to deliver care wherever and whenever it is needed most, but Canadians themselves are on the front lines of MSF's humanitarian interventions in record numbers. In 2016, 343 Canadians left home to work overseas with MSF — as doctors, nurses, logisticians, coordinators, heads of mission, engineers, administrators, medical specialists and more — to help people affected by suffering receive the care they deserve.
The Canadians listed below joined thousands of local MSF staff members around the world in 2016 in response to health crises created by war, neglect, poverty or natural disasters; they travelled to remote villages, teeming cities and conflict zones; and they donated their time, skills, expertise and empathy to make a difference in the lives of those who may otherwise have had no hope.
We thank them for their efforts, their commitment and their compassion, and extend our appreciation to all those who continue to carry out MSF's vital humanitarian work now and in future.
Canadians on Mission with MSF in 2016
Mohammad Abbass;
Mary Catherine Abbott;
Basil A. Abdullah;
Laura Acheson;
Ian Adair;
Lorna Adams;
Abdurrahman Alaydi;
Françoise Viviane Alexandre;
Salameh Al-Huneidi;
Rafah Ali;
Mohammed Jabbar Kadhum Al-Tememi;
Maxime Amar;
Amirhossein Aminsharifi;
Comlan Paulin Amoussou;
Roderick Anderson;
Louis Alexandre Angora;
Nicholas Annejohn;
Matthew Antwright;
Justin Armstrong;
Sarah Atkinson;
Ann Avard;
Colette Badjo;
Mathieu Baillargeon;
Guillaume Baillargeon;
Heather Baniulis;
Leah Battersby;
Joseph Baugniet;
Stephanie Bauhaus;
Myriam Beaulieu Cyr;
Eric Beausejour;
Sonia-Éloïe Bélanger-Jacques;
Leila Ben Amor;
Avril Benoît;
Courtney Bercan;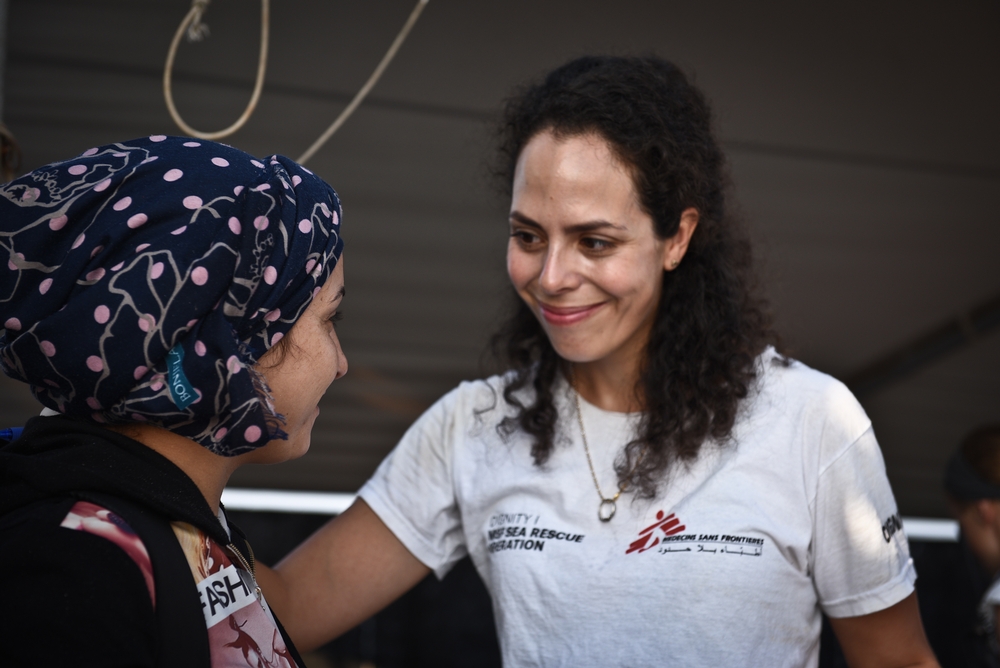 Elizabeth Bernard;
Myriam Berry;
Cynthia Keza Birikundavyi;
Melanie Blais;
Etienne Blais;
Martha Alicia Blancarte;
Nosakhare Boadi;
Maryse Bonnel;
Carol Gira Bottger Garcia;
Patrick Boucher;
Ernesto Boulianne;
Laura Bourjolly;
Jean-François Brassard;
Tashan Bremond;
Annie Breton;
Alexandre Breton-Harvey;
France Brind'amour;
Bruno Brochu;
Jocelyn Brousseau;
Lindsay Bryson;
Bilal Budair;
Dallas Buleziuk;
Alexandre Burt;
Anne Butler;
Alain Calame-Rosset;
Elisabeth Canisius;
Lisa Carroll;
Christina Cepuch;
Peggy Chan;
Ali Chashm Khavari;
Monica Chaudhuri;
Alexandra Chen;
Michelle Chouinard;
Jaime Chow;
James Chrones;
Josephine Cirezi Cishibanji;
Katherine Clark;
Donald Clark;
Pamela Coles;
Rachel Cook;
Kevin Coppock;
Philippe Cottereau;
David Croft;
Oonagh Curry;
Francois David;
Giselle de Jesus Silva;
Barbara Deck;
Fabien Dehors;
Ludovic Delabie;
Lori Demontigny;
Marise Denault;
Patrick Derilus;
Michel Deroy;
Nicole Desi;
Karthika Devarajan;
Kathleen DeWitt Newell;
Abdoul Karim Diallo;
Ibrahim Diallo;
Kadiatou Diallo;
Mohamed Dimassi;
Colleen Dockerty;
Veronique Doutreloux;
Tracy D'Souza;
Amélie Dubé;
Fredéric Dubé;
Linda Dufour;
Jezabel Erika Dumas;
Marie-Élise Dunnigan;
Joseph Pierre Durand;
Jodi Enns;
Edgar Escalante;
Reza Eshaghian;
Thibaud Eude;
Assemien Vincent Ezan;
Matthew Falk;
Stefanie Falz;
Mike Fark;
Stephanie Faubert;
Julia Fedec;
Zéphirin Feruzi Kyango;
Carlos Figueroa Cano;
Andrew Ross Findlater;
Sheldon Montgomery Florence;
Emmanuel Fongeh;
Julie Fontaine;
Alonso Alberto Forero Sanchez;
Marc Forget;
Danielle Forsythe;
Adolphe Fotso;
Melissa Gagnon;
Albane Gaudissart;
Marilyn Gauvin;
Sébastien Gay;
Alexandra George;
Isabelle Gervais;
Chad Gherbaz;
Navin Kumar Ghimire;
Nicholas Gildersleeve;
Sarah Giles;
Sara Goddard;
Juniper Gordon;
Senami Alice Gougounon;
Michele Rosa Goulet;
Nancy Graham;
Jeffrey Grass;
Caroline Grenier;
Myriam H. Ouimet;
Barbara Haddock;
Marie-Claude Hallée;
Samantha Hardeman;
Caroline Harvey-Blouin;
Arif Hasan;
Gordon Hatt;
Madeleine Hebert;
Francois Hebert Leblanc;
Peter Heikamp;
Maren Ligaya Heldberg;
Adam Hewson;
Elizabeth Hinton;
Meaghan Hock;
Ondrej Holcman;
Kayleigh Hortop;
Melissa How;
Spencer Huchulak;
Michael Hughes;
Kanadi Ibrahim;
Brigitte Ireson-Valois;
Andrea Irwin;
Consuela Jacot;
Yalda Jafari;
Tomislav Jagatic;
Emilie Joos;
Gouwendkouni Serge Kaboré;
Mayur Kale;
Nishadi Preethika Silva Kaluappuwa Hannedige;
Elizabeth Kavouris;
Robert Nyaribari Keango;
Tania Keefe;
Dawn Keim;
Craig Kenzie;
Robina Khan;
Adam Kingscote;
Alexander Kmet;
Maki Kogo;
Jean Frejus Konan;
Sandra Kooistra;
Geoffrey Koontz;
Mark Kostash;
Dieudonné Kouamegni;
Alidou Koutou;
Andrea Kuehn;
Jacob Kuehn;
Sarah Lamb;
Chloé Lamontagne;
Mélissa Langevin;
Céline Langlois;
Samuel Laurin;
Amélie Lavoie;
Barbara Leblanc;
Corey LeClair;
Eric Lee;
Noemie Legendre;
Dorly Lucien Legrand;
Ado Lemou;
Margaret Rose Lerhe;
Claudia Lessard;
Helene Lessard;
Judith Letellier;
Marisa Litster;
Emily Jane Little;
Julie Little;
Amy Kit-Mei Low;
Emile Luzolo Mbikulu;
Stephen MacKay;
Kataun Mahinpou;
Layne Mahon;
Jude Chun Hei Mak;
Melissa Manchester;
Masa Mandic;
Nicolas Marcotte;
Rogy Masri;
Marie Mathers;
Stephanie Mayronne;
Ousseynou M'Baye;
Silas Mbuko;
Claire McClelland;
Judy McConnery;
Casey Jacqueline Dale McDermott;
Sarah McNally;
David Michalski;
Marjorie Middleton;
Mariko Miller;
Michael Minielly;
Patrick Mitchell;
Matthan Moktar;
Richard Mommersteeg;
Heather Christine Mondin;
Ann Louise Montgomery;
Marie-Pier Montigny Bacon;
Fanny Morel;
Alphonsine Mukakigeri;
Jocelyn Murphy;
Brock Murray;
Sophie Musonda;
Samira Naili;
Maher Najari;
Niassa Navidzadeh;
Prosper Ndumuraro;
Luis Francisco Neira Colmenares;
Robin Nesbitt;
Tricia Newport;
Rebecca Ngan;
Cynthia Thi Dong Phuong Nguyen;
Diana Nicholson;
Leopold Nkowa Wanji;
Mauro Nogueira Cardoso;
Kim Danielle Noiseux;
Maria Elena Ordonez Ramos;
Caroline Ouimet;
Lung Ji Pan;
Angela Parks;
Nicola Kim Parry;
Charlotte Passmore;
AnneMarie Pegg;
Edward Pegg;
Nicolas Peissel;
Nicolas Perez;
Danielle Perriault;
Thierry Petry;
Aline Philibert;
Todd Phillips;
Francis Pineault;
Andrew Player;
William Plowright;
Neil Podmore;
Thierry Poirier;
Kimberly Pollard;
Marek Potapowicz;
Chloé Marie Potvin;
Gabrielle Powers-Langlois;
Laura Puteris;
Andrée-Anne Racine;
Ian Randall;
Paul Randlett;
Michael Rekart;
Wendy Rhymer;
Mirabelle Ricard;
Katiana Rivette;
Kirsty Robertson;
Letitia Rose;
Elaine Roy;
Marie-Andrée Roy;
Pamela Ruby;
Sybille Rulf;
Navpreet Sahsi;
Lunel Salomon;
Oliver Sven Schulz;
Teresa Segura;
Jerome Sess;
Claudette Seyer;
Abdullah Shah;
Lauren Jean Shandley;
Altynay Shigayeva;
Alexia Simeoni;
Robin Sinclair;
Omer Alain Stéphane Sissoko;
Jonathan Skillen;
Lisa Skillen;
Sandra Smiley;
Carole Smith;
Luella Smith;
Emma Solar;
Nila Somaia;
Alkaly Momo Soumah;
Sadie St.Denis;
Elizabeth Stanway;
Sarah Jane Steele;
Brian Stern;
Kyla Storry;
Jeffrey Sam Stucky;
Sunita Swaminathan;
Gbolatche Jean-Paul Urbain Tagro;
John Lindsey Talbot-Crosbie;
Michael Talotti;
Marie-Amélie Taschereau;
Alia Tayea;
Beverley Taylor;
Gislene Telemaque;
Heather Thomson;
Léo Lysandre Tremblay;
Jordan Lee Tustin;
Amanda Tyer;
Alessandra Valoroso;
Stephanie Kyle Van Haute;
Crystal Van Leeuwen;
Jan van't Land;
Simon Veilleux;
Martine Verreault;
Frederic Vigneault;
Jaime Zhen-Mei Wah;
Heather Walsh;
Dominika Wanczyk;
Benedict Waters;
Lauren Wattam;
Melanie Diane Wilson;
Gordon Wood;
Cameron Wrigley;
Ian Wrohan;
Sein Youn
Related News & Publications